Annual Events
Each academic year, the Success Mentor Program provides various programs and initiatives t
o support first-year students in their transition to life at UC Merced
. With a wide range of useful and helpful topics, these initiatives are designed to foster skill development, connect students with one another and develop Bobcat pride.
Workshops
The Success Mentor Program recently launched peer led workshops to provide opportunities for UC Merced undergraduates to expand their knowledge and skills academically and socially. Topics addressed at these workshops are designed to address prominent topics for students in their first year at UC Merced but the content is appropriate for all grade levels.
Topics from the 2015-2016 academic year include: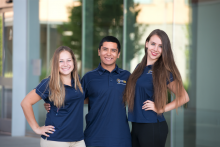 Budgeting
Homesickness, Balancing Family Life with School
Sucess Skills & Time Mangement
Professionalism
Wellness
Becoming Independent
Job Searching
and more!
Annual Events
Below are a couple of our traditional events that are usually held every year. SMP hosts additional events throughout each semester.
Thankful Social

Each November, during the season of giving thanks, the Success Mentor Program hosts a dinner event with great food and an opportunity to recognize the accomplishments and successes achieved in the first half of the fall semester.

 
End of Year - Cheers to You
As the weather changes in late spring and the academic year comes towards a close, the Success Mentor Program hosts an annual lunch to close out the academic year. This is an opportunity for Mentors to celebrate their mentee's successful completetion of their first year at UC Merced!